The Boulder Patch is the Squamish Corridor's premier landscape boulder and stone yard.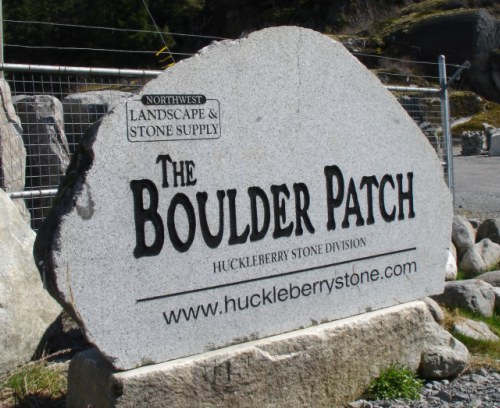 Northwest Landscape & Stone Supply and Huckleberry Stone Supply has created the premier Boulder and Natural Stone Yard called the "The Boulder Patch" which is located in the heart of Squamish on Loggers Lane. The Boulder Patch stocks a massive inventory of various Natural Stone products direct from our Quarries to our yard. While we primarily cater to the Landscape Contractor, we can also deliver direct loads to the end consumer as well. The Boulder Patch is located just 30 minutes from Horseshoe Bay Ferry Terminal and approximately 60 to 70 minutes fom our Burnaby retail yard. Being such a short distance from North or West Vancouver, The Boulder Patch is the ideal source for direct loads to your jobsite. Direct loads will provide you with outstanding savings when compared to our retail yard.
Our focus and commitment is to provide beautiful and functional natural stone to the landscape and building stone industry. From our own Basalt and Granite quarries near Whistler B.C., we control ready access to millions of tons of naturally weathered stone. Our production department has the capability to cut, saw, drill, and split a wide selection of landscape and building stone products for the industry. With our parent company Northwest Landscape Supply, we have been providing the landscape industry with quality products and service for over 40 years.